Honeybush, a treasured botanical gem native to South Africa and part of the fynbos biome, is the heart and soul of a unique and burgeoning industry. This remarkable wild plant, scientifically known as Cyclopia, is celebrated for its exquisite aroma, captivating flavour, and rich tapestry of health benefits.
Nestled within the breathtaking landscapes of South Africa's Western and Eastern Cape provinces, honeybush thrives as an indigenous wonder, showcasing its' versatility and significance.
Out of the 23 honeybush species, only a select few are used for tea production. Among these cultivated species, five stand out as the primary contributors to South Africa's growing honeybush tea production.
Intermedia
Subternata
Longifolia
Maculata
Genistoides
The remaining Cyclopia species are typically not collected for tea production, although there may be sporadic instances of individuals gathering them for personal consumption at home.
Honeybush species used for tea production
Honeybush tea, made from Cyclopia species, has a complex flavour with oral, fruity, and woody notes, a slightly sweet taste, and a mild astringent mouthfeel that lends body.
INTERMEDIA
Locally called bergtee.
Predominantly oral with a rose perfume (rose petals) note and a hint of cinnamon (sweet spice).
Provides 85% of wild-harvested material.

Until recently, it served as the industry's cornerstone, but cultivated varieties have now taken the lead.
SUBTERNATA
Locally referred to as vleitee.
A sweet, fruity and  oral character with notes of caramel, apricot and apple crumble (cooked apple combined with cinnamon).
An erect, densely branched small-leaf shrub

Widely distributed, small volumes of tea are wild-harvested harvested

Provides 45% of the cultivated crop annually.
LONGIFOLIA
Known as van Stadens tee.

A full-bodied tea with apricot and rose geranium notes and a hint of bitter.

A laxly-branched, straggling medium-leaf shrub.

Only cultivated longifolia is permitted for harvesting as in the wild it is a TOPS-listed species.

Provides about 45% of the annual cultivated volume.
MACULATA
Known as

Genadendal tee.

Characterised by the basic aroma profile of honeybush; sometimes with a hint of cinnamon.

Known for its distinctive spotted needle-like leaves.

Small volumes of wild harvested material and small areas under cultivation.
Makes up about 5%  of annual cultivated production.
GENISTOIDES
Locally known as

Kus tee.

A full-bodied tea with apricot and rose geranium notes and a hint of bitter.

Characterised by its resemblance to the Genista plant.

Known as the 'original' Honeybush tea because it occurs in the Western Cape in areas which were first settled by Europeans.

No longer wild harvested. Cultivated in the Western Cape on the Agulhas plain, makes up about 5% of annual cultivated production.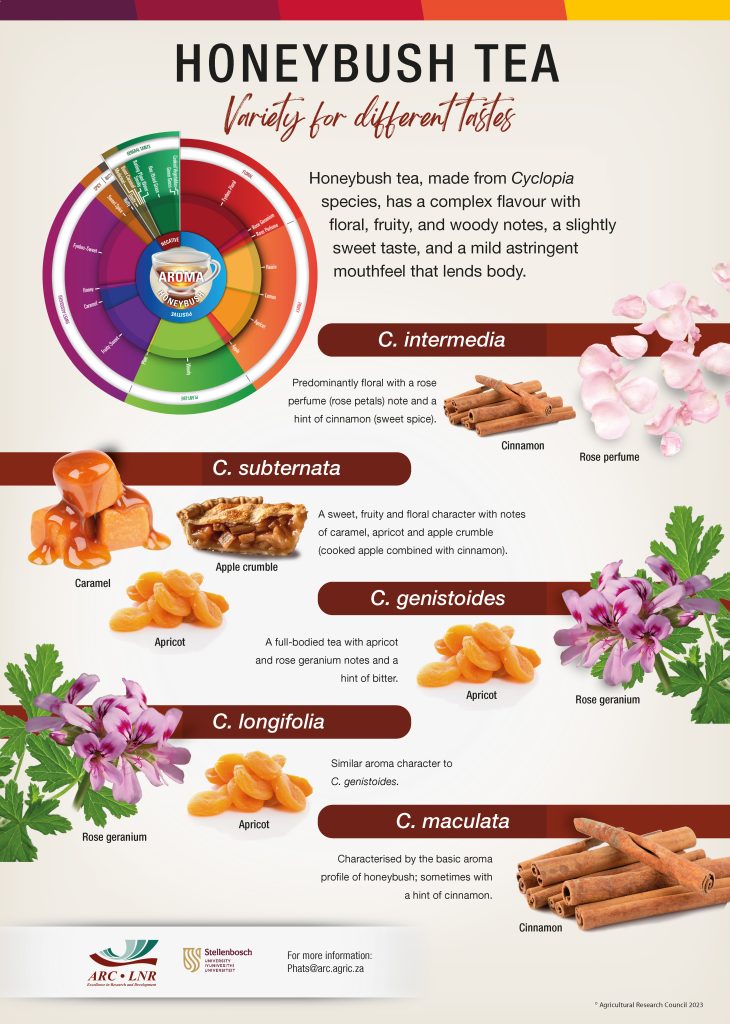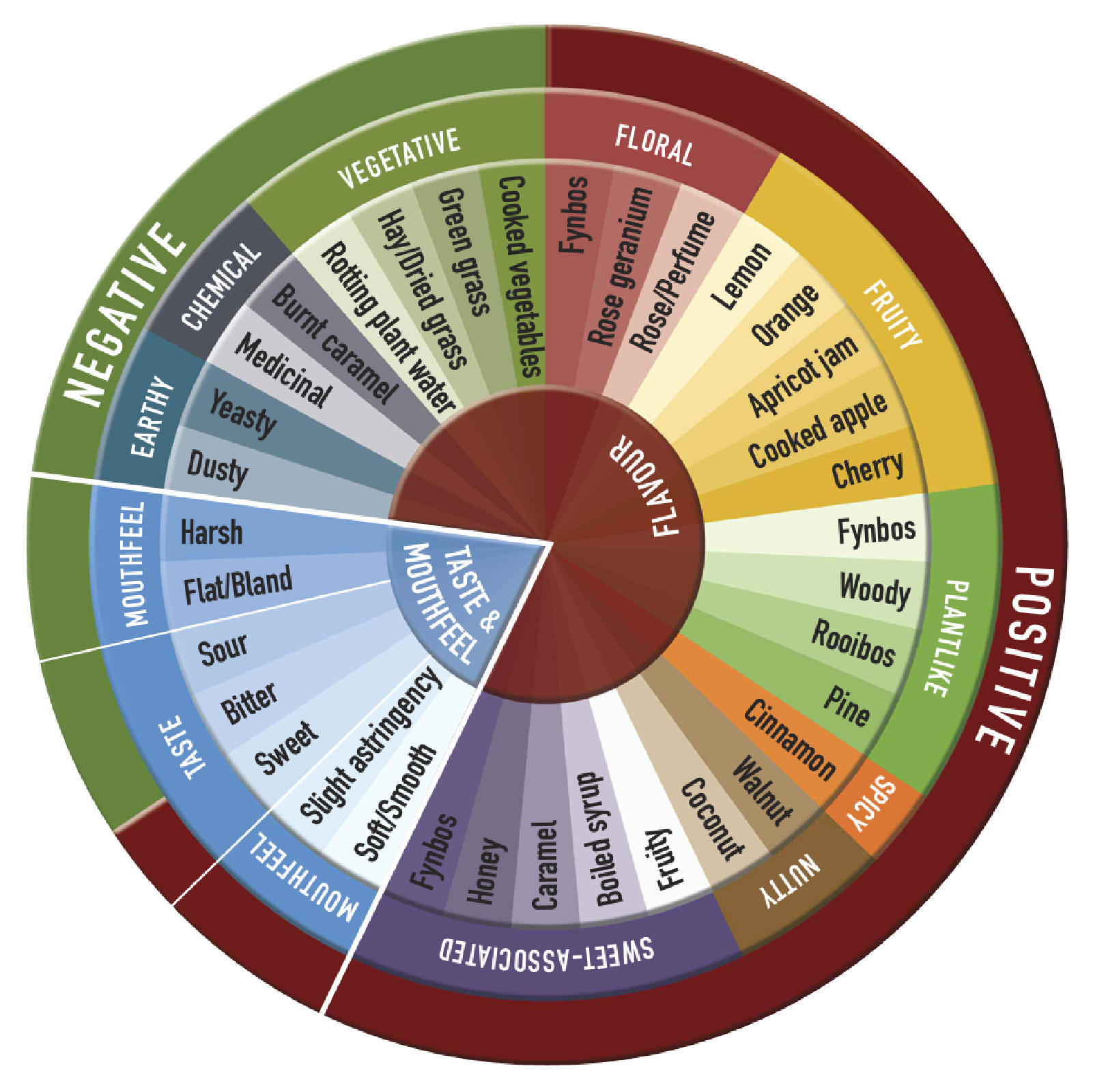 The Honeybush Sensory Wheel
This first version of a generic honeybush sensory wheel, consisting of 28 flavour and 7 taste and mouthfeel terms, has been developed as a communication and quality control tool for the honeybush tea industry. It is not species-specific since it is based on the sensory analysis of infusions from six honeybush species.
The overall sensory profile of honeybush tea can typically be described as floral, sweet, fruity and plantlike, with a sweet taste and a slightly astringent mouthfeel. There are, however, significant taste and flavour differences between the different honeybush species, e.g. Cyclopia maculatahas a strong spicy character, while Cyclopia subternatis associated with a fruity, sweet flavour.